The NRA didn't do itself any favors with its press conference on Friday, but the it's hard to top the radical left's hypocrisy on the gun debate.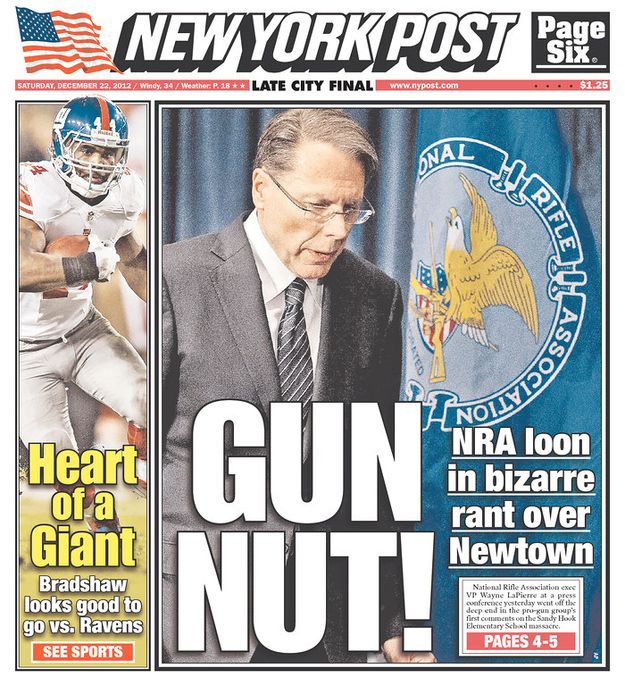 See: "
Dianne Feinstein's Concealed Carry Permit
."
Then read the far-left New York Times, "
The Scourge of Concealed Weapons
." Freakin' idiots.
RELATED
: "
Guns and the Right to Bear Arms at Saberpoint: The NRA: Target and Scapegoat for the Hyper-Angry Left
."
ALSO
: "
National Review's Newtown Symposium
":
For some reason NRO's editors thought it smart to put Charlotte Allen's not-enough-men essay first in its recent symposium on the massacre. I don't know. As the father of a husky 11-year-old boy, I doubt I'm the best advocate for a bunch of husky (11 or) 12-year-old boys "gang rushing" a grown man wielding a semi-automatic rifle shooting fragmenting bullets. Megan McArdle made the "gang rush" argument as well (about which here). There may be some circumstances during a mass shooting that such virtual human sacrifice defense methods succeed in dragging down the shooter, or bowling him over, or whatever, but it defies common sense for a rational-thinking child to summon up that much foolish bravado. If anything, I suspect someone would sooner jump between the line of fire to save a dear friend, as what happened during the Aurora shooting. That "gang rush" thing sounds more like a bum rush at this point.
Continue reading
.
BONUS
: "
Invincible Ignorance
."