Saturday, 31 January 2015
From Donald Douglas at 20:38 0 comments


Links to this post
Friday, 30 January 2015
Glen Dougherty and Tyrone Woods will not be forgotten and Barack Obama will be held accountable!




Just in from Daniel Mael, the stand up senior at Brandeis who set the wheels in motion. Just conjecture, but maybe some wealthy donors decided Lawrence pushed Brandeis too far to the loony Left.

Dan Friedman
NYC




Dear Friend,

After careful consideration, and in close consultation with the Board of Trustees, I have decided to step down as President at the end of this, my fifth academic year. For the time being, I am looking forward to returning to full-time scholarship and teaching as a senior research scholar at Yale Law School.

I am tremendously proud of the ways Brandeis has grown and thrived during my time as president. Applications have surged to an all-time high, our endowment has grown to its highest point ever, and we have made significant progress in balancing the University's budget. Together we were able to raise $225 million during my tenure, providing critical support for financial aid and scholarships. We re-opened and re-energized the Rose Art Museum, rebuilding its board, mounting critically acclaimed exhibitions and changing our campus landscape with the "Light of Reason" sculpture.

Addressing the critical issue of affordability of higher education, and conscious of our social justice mission, I was privileged to secure the viability of our Transitional Year Program with the naming gift in memory of Myra Kraft, and to increase scholarships and fellowships. We have also been able to recruit our top choice faculty, attracting to our ranks people of extraordinary ability as teachers and scholars. We improved our campus, and revitalized our buildings and grounds.

As a community, we stood together during times of celebration, tragedy, triumphs, and challenges — but always striving for a climate of respect for each other, and our hopes to make the world a better, more just place. I am particularly proud of programs like 'Deis Impact, b-VIEW (Brandeis Visions of Israel in an Evolving World), and Brandeis Bridges that have been a source of dialogue on our campus, and models for discourse on campuses around the world.

I want to thank the Brandeis Board of Trustees for the opportunity to lead this strong, vital and dynamic institution and serve alongside so many extraordinary students, faculty, alumni, staff, parents and friends of the University. Every day our community exemplifies Brandeis' legacy of social justice and repairing the world. Teaching the students who make Brandeis what it is has been a treasured opportunity. Living near campus allowed us to spend meaningful time with so many members of the Brandeis family. We will never forget those dinners and receptions in our home.

I am very glad that the Board has appointed Lisa Lynch, provost and the former Dean for the Heller School, as interim president while a search is conducted, and I have great confidence in her ability to continue the strong trajectory that we have set for Brandeis.

This is a special place, and one that has left an indelible mark on Kathy and me. We look forward to thanking many of you personally in the coming months for your support and to celebrating the achievements and successes of our time at Brandeis. My door remains open to you, and always will be.

With gratitude,


Fred Lawrence
President and Professor of Politics
US daytime trading sessions have become all about expanding multiples on declining earnings.
And the FED is here to help!
Look at the pattern of overnight global market reality that is countered by FED jawboning attempt to keep the S&P's balls inflated.
[Good news, but still over a month to go. No way does this mean Obama has run out of dirty tricks. But so far his attempts to meddle in Israeli politics have yielded the opposite of his desired effect. df]
Israeli Prime Minister Benjamin Netanyahu is enjoying a surge in the latest opinion polls of Israeli voters. The Jerusalem Post
reports
that its latest poll shows Bibi's party, the Likud, is leading the race for the first time in weeks. Other polls
agree
, and show the Likud leading its rival, the Zionist Union, which is a combination of the Labor and Hatnua parties.
Man, right there in public!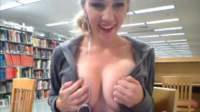 She had to keep checking around to make sure she wasn't about to get caught, but boy she sure wasn't shy about showing of her stacked rack on the porn hub website.
What a crazy hot babe!
Here: "
Kendra Sunderland, Former Oregon State University Student, Arrested After Making Porn Video in Campus Library
."
No doubt she has some public exhibitionist streak.
And it wasn't just breasts. She was bending over booty-time for the camera too. Holy cow!
Check it at
the link
.
From Donald Douglas at 23:30 0 comments


Links to this post
Hear why Zo is so upset about Michael Moore's recent comments about "American Sniper" and the U.S. military




A young mother, touched by the ghost of her aborted little girl.




Al Sharpton has declared an emergency meeting of his Diversity Panel since all of this year's Best Actor / Actress and Best Supporting Actor / Actress nominees are white. In his latest Firewall, Bill Whittle shows the history of this Racial Racket Ball, leading back to its inventor, Jesse Jackson. It's a long, long way from these racial grievance hustlers to the subject of SELMA.




Welcome to the Marine Corps' web update, "The Corps Report." Tune in every payday for the latest gouge.

Commandant releases planning guidance, Sgt. Maj. Ronald L. Green selected as new Sergeant Major of the Marine Corps, and an update




The new Twitter hashtag presented in this article, #WWOD, offers the opportunity to opine on what it is that you think President Obama will do concerning any of the many jobs that he is responsible for.
From Michael Haltman at 20:41 0 comments


Links to this post
Very few things in politics are guaranteed, but one thing most assuredly is – if you allow your vote to be taken for granted, your vote will be taken for granted. My vote will not come cheap. (
continue reading
)
From James P Willis at 15:23 0 comments


Links to this post
Remy decides to stand up for freedom the easiest way he knows how: by taking selfies. #YOLO!




This article, along with links to other articles, questions why no one on the Left or in the media has the patriotism or the gonads to do what is right for the country rather than simply what is politically expedient and best for their careers!
From Michael Haltman at 11:30 0 comments


Links to this post
PM Netanyahu will address Congress about Iranian nukes soon. This is needed since Obama seems fine with allowing the Mullahs to build a bomb. This should be entertaining




Insects like honeybees play a critical role in pollinating about a third of the crops that make their way to our dinner table. But honeybees and other pollinating insects are coming under attack. We'll explore the latest research and other efforts to bring bees back to health.




[What's really going on here? Is it (as claimed) the proximity to the Israeli elections, Obama's efforts to defeat Netanyahu (as denied), or better yet, allowing nothing to get in the way before Obama's deal with Iran becomes a fait accompli? Certainly, if Obama's people help drive Bibi from office, his delayed speech to Congress after his defeat will lose all its gravitas and meaning. Three birds with one stone. Clever devil that Barry Soetero. Now you know the true meaning of chutzpah, and "American pressure" besides. df]
By MICHAEL WILNER
US lawmakers propose PM move speech to joint session of Congress until after Israel election on March 17.
Makes absolutely perfect sense...if you're a Central Banker or part of their fiat Cartel.
Nothing says DUMP precious metals like an aggressively escalating global fiat currency war.........or inflation.
[Believe it or not, some people on the Left Coast "get it." Screenwriter (and political commentator) Roger Simon stands out among them. df]
By Roger L Simon
From writer/director Andrew Klavan... In a world gone crazy, in a world gone mad, a strange new horde of mindless leftist zombies lurk in the shadows. These unthinking undead claim to support your fundamental freedom to think, say, believe and report any damn thing you think, say, believe and report, BUT!!!!




Thursday, 29 January 2015
From Donald Douglas at 23:07 0 comments


Links to this post
There is something about the acting profession that not only drives out any common sense that they may have been born with but it also allows them to live their lives completely devoid of reality.
The latest in a long line of entertainers to provide unarguable evidence that they live on a different planet to the rest of us is award winning actress Emma Thompson. She joined a group of celebrities, which included Sting, Downton Abbey's Michelle Dockery and others, in
sending an open letter
to British Prime Minister David Cameron condemning the government's resettlement program for Syrian refugees as inadequate.
These celebrities state in their letter that the are 'ashamed' of the British government's failure to relocate more Syrian refugees to Great Britain. There is no indication in their letter of how many they want to resettle but the fact that fifty percent of all Syrians have been displaced as a result of the ongoing civil war is an indication of the enormity of the problem.
Why these celebrities have chosen Syria in particular and not one of the scores of other civil wars around the world that are displacing millions of people requires an explanation.
What have the displaced citizens of Nigeria, Sudan, Somalia, Libya, Yemen, Kashmir and other war ravaged countries done to deserve being overlooked by Ms. Thompson and her friends?
Emma Thompson's abilities as an actress are beyond question, her abilities as a political analyst however are somewhat lacking.
A supporter of the Labour Party and socialism, she claims that Great Britain is a rich country which should be doing more to alleviate the suffering of the Syrians. This is an easy position to take from the vantage point of affluent West Hamptstead, one of the most exclusive parts of London, and an estimated $45 million fortune, but not so for millions of her fellow citizens who are mired in poverty.
Far from being a rich country, the British economy was bankrupted by the last Labour government under the stewardship of Tony Blair and Gordon Brown. The various governments to date have accumulated over one trillion in debt and are still borrowing close to one hundred billion per year.
In addition to this economic disaster, there is a shortage of housing, school places and jobs; social and physical infrastructure are collapsing under the weight of an unprecedented increase in population.
Millions of her fellow citizens are in fuel and financial poverty with the use of food banks at an all time high. The NHS has failed and is no longer fit for purpose. In addition, crime and ethnic conflict are spiraling out of control. All this is a result of her Labour Party's socialist policies together with the imposition of 'multi-culturalism' using open border mass immigration.
It is incumbent upon Emma Thompson and the rest of the multi-millionaire celebrities to enlighten the British people as to where these refugees are going to live and their children go to school?
It would also be nice to know how they are going to be financed in the future when Great Britain itself is starting to resemble that part of the world from whence they would come.
There are a number of false assumptions and inconsistencies in their letter that need to be highlighted:
The Prime Minister
"is in a position to offer some of the most vulnerable people in the world safety
in Great Britain"
. No he isn't, it's not exclusively his country to do has he wishes. As stated previously, the country is broke with no jobs, no houses etc. and the British people have had enough of immigration, they would not consent if, in the unlikely event, they were asked.
"This issue isn't about migration statistics or party politics, its about people. Its about the values that we in Britain hold dear; compassion and humanity"
.
When she and her cohorts use
"we in Britain"
they are creating the illusion that we are all in it together, suffering the governments austerity program and drop in living standards in equal measure. This is a PR device that rich celebrities regularly employ to convey a proletarian image.
The fact is that for this group of wealthy elites nothing has changed, they still live the affluent lifestyle that their fellow citizens can only dream about. They can shuttle between their multiple homes and holiday resorts without the lack of money being prohibitive.
If Ms Thompson, Sting and the rest were serious about
"compassion and humanity"
being a value that they hold dear, then maybe they would consider financing some refugees out of their personal fortunes and accommodating some in their multiple residences.
As far as being 'ashamed' of the British people's failure over Syrian refugees, Ms Thompson and her friends should take note and acknowledge the hundreds of thousands of Somali's, Pakistanis, Nigerians, Yemenis, Afghans, Iraqis, Eritreans, etc ad nauseam who have been been given sanctuary in Great Britain.
This doesn't include the millions of economic migrants from the poorest parts of the European Union.
In many cases the British people have been rewarded for their
"compassion and humanity"
with an explosion of violent crime including mass murder, the rape and horrific sexual abuse of their children and ever increasing demands to eradicate their culture and way of life.
(Examples of immigrant crime wave
here
,
here
here
and
here)
The solution to the problems resulting from civil wars is not the mass relocation of populations, that only creates discord and degradation in the host countries; this fact is probably beyond the capabilities of remote, wealthy celebrities to understand.
Its easy to be compassionate and humane with someone else's money and when one doesn't suffer the consequences of degradation and violent, ethnic related conflict that mass immigration from the third world brings.