A phenomenal lineup.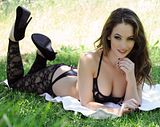 All smokin' hot babes.
See: "
Overdue Sunday Rule 5
."
(Some
huge breasts
at that link.)
The Rule 5 concept was introduced a few years back by Robert Stacy McCain, at The Other McCain, for example, "
Blogger Gets 2 Million Hits Because of His Insightful Commentary and Lucy Pinder's Enormous Breasts, But Mainly . . .
"
And check out the great roundup at Pirate's Cove, "
Sorta Blogless Sunday Pinup
."
THUMBNAIL CREDIT
: Camp of the Saints, "
Rule 5 Saturday
."