ICYMI, "Weight Watchers Extends Endorsement Deal With Jessica Simpson (VIDEO)."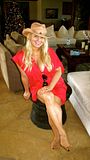 And, "
Looking Great! Jessica Simpson Posts Revealing Cleavage Photo on Twitter Days After Confirming She's Expecting Second Child (PHOTO)
."
Plus, the bikini/breast babe-bloggers have kept busy at the bikini/breast babe-blogging this holiday week, "
Holiday Rule 5
."
More, "
Women Pose With Assault Rifles They Got For Christmas
."
And upon the death of a military hero, "
Progressives Viciously Attack Deceased Ret. General Norman Schwarzkopf on Twitter
."
And don't-miss Michelle Malkin commentary here, "
Gun-Grabbing Democrats Exploit Tragedy to Push Radical Agenda
."
Also, "
In Ireland, Carbon Taxes Demonstrate Global Left's Radical Environmentalism in Action.
"
And we're outta there in Afghanistan a little more than a year from now, but are we ready? See, "
An Uneasy Separation in Afghanistan
," and "
Germans Say Afghan Forces Unready for West's Withdrawal
."