She tops herself with every new endeavor --- and frankly, she looks better every time too!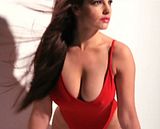 See: "
Kelly Brook Calendar 2013
."
Also, "
Scooped Daily Mail on Kelly Brook's Fabulous New 2013 Calendar: Busty model wears raunchy red as she shows off her famous curves in calendar shoot
."
There's video at that link.
Brook's cut-off boxing shirt with electric tape
over her nipples
is a little over the top, but again, she's outdoing herself every time nowadays.
Right on!
H/T Doverthere