I've got lots of smokin' hot blogging going on, with breaking commentary and analysis on the collectivist inaugural nightmare going down in D.C. Yeah, I watched it. It's worth watching if you're concerned about preserving liberty.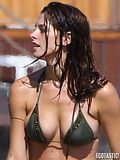 In any case, here's the inaugural coverage so far, "
Barack Hussein Obama's Second Presidential Inauguration
," and "
CNN's Jim Acosta: 'I Feel Like I Should Pinch Myself Right Now...'
"
And from some earlier blogging, including some tasty totties ...
See: "
Katy Perry Red, White and Blue Inauguration 'Fireworks'
."
And, "
Obama Inauguration T-Shirt Touts Second Term as 'Earned, Not Given'
." (Hilarious photo!)
Plus, "
Gun Enthusiasts Flock to Gun Shows Around the Country
." (Includes essential links.)
More, "
Drive-In Movies Nearly Extinct as Studios Move to Stop Distributing 35-Millimeter Prints
."
Also, "
Assassination Attempt on Bulgarian Opposition Leader (VIDEO)
."
And, "
Sniper Kills Al Jazeera Reporter in Syria
." (Really, click through for video of reporter picked off by snipers at that link.)
More, "
ObamaCare Slams Part-Time College Professors
."
More still, "
Teenage Girl Says She Will Have Sex With Teenage Boy If He Gets 1 Million Facebook Likes
."
Don't miss, "
Mellisa Clarke Crowned Page 3 Idol Winner for 2013
." (Boobies! Because it's a holiday!)